Your
Basket
contains: 0 item(s)
About Us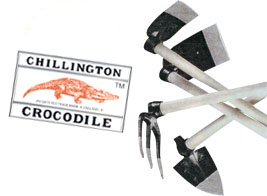 The Chillington Tool Company has been supplying the agricultural and construction industries with quality hot forged Hoes and Forks for over one hundred years. Using Quality high carbon steel, Chillington sets the highest standard for quality worldwide.
Chillington manufactures a large selection of patterns in a wide range of sizes.
Chillington Hoes and Forks are sold throughout the world under a number of different brand names, the most famous being the "Crocodile".
All Chillington products are recognised as the hallmark of quality, durability and reliability.